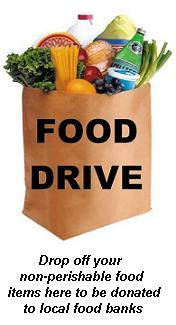 Food banks are flooded with donations around the holidays; however, people are hungry year round.  We have decided to run a  food drive in order to help stock the shelves of the Multi-Service Center.
Here is an idea list for needed items:
Any non-parishable food item (canned, boxed, or dry packaged food items)
Dried fruits
Nuts
Protein bars, granola bars
Personal grooming items (soap, shampoo, razors, toothbrushes, toothpaste, etc. )
Items for Babies (formula, diapers, baby food, baby cereal, wipes, etc.)
We are available Monday through Friday from 8:00 AM until 5:00 PM to take donations at our office located at 1715 South 324th Place, suite 250, Federal Way WA 98003.