From Flygare & Associates Newsletter November 2010's Free Lunch
A little extra something for nothing.
 
We hope that each and every one of you have a wonderful Thanksgiving holiday!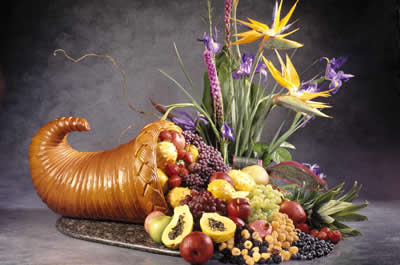 This month we offer a couple of recipes to brighten your holiday table. 
Want a change from the regular old boring cranberries in a can?  Here's a couple cranberry relish versions to kick your holiday meal up a notch.
Cranberry Relish No. 1
2 bags whole cranberries
2 Large Navel Oranges, with rind
2 Large Granny Smith Apples, cored
1 Cup Sugar
Put all ingredients through a meat grinder or chop very fine in a food processor.  Mix all together and add sugar.  Chill at least overnight. 
NOTE:  Splenda can be used as an alternative to sugar.  This recipe can be made a couple days ahead of time, the longer it sits the more the flavors blend.  You can add more cranberry, apple or orange to adjust this recipe to your taste.
Cranberry Relish No. 2
1 Small Can Crushed Pineapple
1 Small Can Mandarin Orange Segments
1 Large Can (15 or so oz.) Royal Anne Cherries
1 Large Can (15 or so oz.) Whole Berry Cranberry Sauce
1 Cup Pecan Halves
Drain all the liquid from the pineapple, orange segments and cherries.  Put the can of cranberry sauce in a bowl and add the other fruit (sometimes it's best to mix up the cranberries before adding the other fruit).  Mix all the fruit together.  Chill well.  Overnight works best to allow flavors to blend.  Just prior to serving add the pecans.
NOTE:  If you wish to sweeten it a little you can add sugar or splenda to taste.
The Best Turkey Recipe Ever!
Anna found Emeril Lagasse's Recipe for Brined,Herb Roasted Turkey and she said, "This seems like a lot of work but it's worth it.  The breast meat comes out very moist and the turkey has great flavor."  Click here to see the full recipe and instructions  .
Have a wonderul Thanksgiving!