From our Newsletter Archive August 2010. 
Click here to see our complete newsletter archive
.  
Tech Talk
By Jona Christoe
Marketing and Technology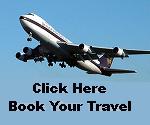 Need to travel for your next important out-of-town deposition?  We know that setting up an out of town (out of state?) Deposition can be frustrating.  You have to find a location, book a flight, hotel and car, coordinate schedules and a hundred other things in order to bring it all together. 
We can help you with most of that.  Click the "Click Here Book Your Travel" link at the top left of our page or find the travel tab under Attorney Tools to make all of your travel arrangements (flight, hotel and car) and then simply give us a call at 1-800-574-0414 to set up the location for the deposition, schedule the court reporter and to discuss any other needs you may have. 
We strive to be your "one stop shopping" for all of your litigation support needs. 
Jona